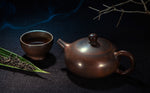 Are you into tea? If you aren't, well, then you ought to be. Because (interestingly), one of the oldest and most natural beverages on earth is Tea. It is the most coveted beverage for there is a lot more to a cup of tea than one might just think of. And yes, this is especially true in case of green tea as it is incontrovertibly the healthiest variety in the realm of tea (but sadly, only 20% of the tea consumed worldwide is green). Made from Camellia sinensis leaves, green tea is a non-fermented tea, as it contains the most antioxidants and beneficial polyphenols.
Ésah's Green Tea
To provide the best cup of tea to our tea connoisseurs across the globe (keeping intact the aroma, purity and nutrition) Ésah brings to you the best of green tea. Ésah makes sure that our tea enthusiasts take a healthy sip combined with a robust yet mild delicious taste. Because Ésah is not just a cup of tea – it is a means of catharsis for our tea aficionados, a companion that they ought to hang out with more often to embrace a fit and salubrious life.
What Makes Ésah's Green Tea Special?
"To make the lives of humankind better and healthier" is one of Ésah's principle. Hence our community delivers our most natural and ethical green tea to your doorway. Given that Ésah is organic, these crops are grown organically (without muddling with nature), wielding the traditional methods and our zealous crafters' wisdom and artistry.
To yield the best quality organic green tea, Ésah have completely deducted the use of machinery, meaning no fertilizers, pesticides and chemicals are used, while cultivating these crops, leaving the tea leaves unblemished. Because, let's just face it, machines can never replace humans. Our diligent artisans work with all their hearts which the machines lack.
The collective effort put into yielding these organic teas is what makes Ésah's green tea unique and prodigious. Albeit our process is time consuming but when it comes to perpetuating the quality of the products, Ésah makes sure there is no leniency.
Our team works hand-in-hand with our hardworking artisans to make our green tea the purest and the healthiest. The process is carried out conscientiously– beginning from handpicking to hand rolling, drying to packaging.
Health Benefits
Varying from life-affirming to life saving, green tea has been used as a medicine for thousands of years. Thus, Ésah brings to you a vast array of health benefits of our organic green tea as it contains antioxidants and nutrients that are great both for your body and mind.
The Fall of Carcinogenesis
Consumption of green tea reduces the risk of cancer. The polyphenols in green tea work as powerful antioxidants and as per studies, consuming green tea reduces the multiplication of cancerous cells in the body. Because A Healthy Heart Is All You Need
Green tea consumption helps in keeping your heart strong and healthy. Consuming at least 5 cups of green tea per day is said to enhance life expectancy.
Make Way for The "Good" Cholesterol
Green tea helps the HDL (high-density lipoprotein) cholesterol or the "good" cholesterol remove LDL (low-density lipoprotein) cholesterol or the "bad" cholesterol in the blood.
Bid Goodbye to Glucose
Intake of green tea helps regulate glucose levels in the body.It also improves insulin sensitivity. This means green tea is advisable for those with or without symptoms of diabetes.
Burn Up All the Excess Fat
Green tea helps in Weight loss. The polyphenol found in green tea increases the metabolism.
Adieu to All Your Dental Problems
Sipping green tea helps in destroying bacteria and viruses causing dental problems as green tea contains the chemical antioxidant "catechin".
Flush Out Your Hypertension
If green tea is consumed regularly, the risk of high blood pressure is reduced to a great extent. This means the tea has a soothing effect on the body.
Stay Young, Be Young
The antioxidant and anti-inflammatory activities occurring in green tea helps you look young, making your skin all wrinkle-free and get that natural glow.
*Something to Boost Your Memory Power *
With the intake of green tea, our brain's cognitive functions are intensified, particularly the working memory.
Tensed and Exhausted? Green tea to your rescue!
Green tea helps in slowing you down and relax as it contains Theanine, an amino acid.
Enhancing Your Intellect in Old Age
Because green tea contains a component called CAGTE (or "colon available" green tea extract), consuming it helps enhancing your intellect in your old age.
Thus, Ésah aims to be the kind of tea which will be remembered by people forevermore – a song which will be sung by every tea connoisseur in every nook and corner of the world. Ésah imagines beyond yielding green tea; it strives to produce that untarnished healthy cup of tea which would bring a smile to our tea lovers every time they take a sip of Ésah.