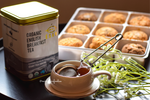 English Breakfast Tea is a black tea made with blending different tea leaves. It is usually consumed along with milk or with a slice of lemon in the liquor.

This tea blend boasts a numerous health benefits, thanks to high concentration of nutrients and minerals. These nutrients include antioxidants such as tannins, catechins, and polyphenols as well as minerals including potassium and manganese. These chemical components can help support strong bones and heart health.

English breakfast tea is also a great source of energy since it is a caffeinated tea. Like other black teas, this black tea contains between 30 and 50 milligrams of caffeine, which can help you get through a tough afternoon or kick-start your morning.

I recently tried English Breakfast Tea from @esah.tea

The packaging is quite impressive. Whole Loose Tea is packed in a golden foil pouch and packed into a beautiful tin. This gorgeous packaging also makes it an ideal option for gifting.

Coming to the review, here's what I want to say about Tea -

Aroma - On opening the package, you can experience the fresh smell of Assam Black Tea.

Appearance - On steeping, tea appears rich Orangish-Red in Color

Taste - Full bodied, Robust, slightly sweet, malty, with notes of honey.
About Ashita Agrawal - 
Ashita Agrawal is the first Tea Blogger based in Mumbai, India. She is well-versed in her tea and writes in-depth reviews. Visit her blogs; they can assist a beginner understand tea better.

Thank you, Ashita Agrawal, for your positive feedback on our English Breakfast Tea. It's gratifying to see our products having an impact and assisting consumers in making the move to organic alternatives and contributing to society as a whole.
We've always admired your eagerness to explore new teas and write reviews about them.