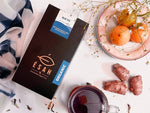 What is Blue Tea?
Blue tea (Aprajita) comes from the vibrant blue Clitoria Ternatea butterfly pea plant.  Butterfly Pea Blue Tea, Asian PigeonWings, and Blue Pea are other terms for it. It is somewhat oxidised during the production process to give it its distinctive taste, and is frequently confused with Oolong tea, which is a hybrid between black and green tea. When you add ingredients like lemon juice to blue tea, it turns bright red or fuchsia pink. Basically, Blue Tea is a caffeine-free herbal tea or tisane produced from a decoction or infusion of the leaves of the Clitoria Ternatea plant.
Clitoria Ternatea is a plant of the Fabaceae family that is common in Thailand, Vietnam, Indonesia, India, and Sri Lanka. For generations, the beautiful blue petals of the butterfly pea plant's blooms have been utilized as a component in herbal tea drinks as well as in cuisine. This herbal tea has been brewed for a long time in Southeast Asia, and it has only recently made its way to the United States and Europe. Blue tea, with the visual appeal of blue azure, has an earthy flavour and is often drank post-dinner, at spas, or as a refreshment in Thailand and Vietnam when combined with lemon and honey.
They are often purchased by tea enthusiasts all around the globe, not only for their delicious flavour, but also for their various health benefits: it detoxifies the body; accelerates weight loss; has anti-cancer and anti-tumour properties; reduces stress and anxiety; enhances skin health promotes; healthy eyesight; facilitates digestion etc.
Organic Blue Teas: Our Collection
Organic Blue Tea : Ésah's Organic blue Tea has a delicate vegetal flavour and is blended with a special green tea and blue pea flower. Proanthocyanidin is one such antioxidant, and it is responsible for boosting blood flow to the capillaries of the eyes. As a result, blue tea can be used to treat retinal degeneration, glaucoma, and impaired vision. When the dried flowers are steeped, the drink takes on a lovely blue hue. When you add a slice of lemon to the tea, it suddenly transforms from blue to purple right before your eyes. To get that sweet, herbal flavor, combine this drink with syrup, honey, and lemon.
Buy now: https://esahtea.in/collections/tea-1/products/organic-blue-tea-1?_pos=1&_sid=6ab8712ce&_ss=r
Organic Blue Pea Tea: Organic Blue Pea Tea's important nutritional profile makes it an excellent weight loss drink, with a soothing breeze of freshness in each and every sip to calm the body when served chilled. Ésah's Organic Blue Tea, like Green Tea, is a strong antioxidant agent due to its caffeine-free and organic nature. It has an immensely appealing colour diffusion that it delivers as a drenching exotic brew. Perfect for when you really need a quiet moment to reflect and organize your thoughts.
Buy now: https://esahtea.in/collections/organic-tea/products/organic-blue-tea?_pos=1&_sid=0a9e42f4f&_ss=r
Organic Blue Mint Tea: Organic Blue Mint Tea's key ingredient, mint, is helpful to soothe the stomach and relieve digestion process. One of the major benefits of drinking Organic Blue Mint Tea is its antioxidant properties. It also helps you feel relaxed and get a good night's sleep. It also helps improve brain function and memory. This Tea is used as a natural colorant and for refreshing mint flavor is used in cocktails all around the world.
Buy now: https://esahtea.in/collections/organic-tea/products/organic-blue-mint-tea?_pos=1&_sid=ef52647b8&_ss=r
Organic Lychee Blue Tea: Lychee, often known as litchi, is a sweet tropical fruit popular in Asia. When making and drinking this tea, one is greatly impressed by its very sweet and fruity aroma. Organic Lychee Blue Tea has a mild sweet, occasionally tangy flavor that may compliment a broad range of other flavours to produce a really unique taste experience. Dried blue pea flowers yield a brew that is stunning in colour and can be enjoyed with a floral and delicious aroma of lychee.
Buy now: https://esahtea.in/collections/newest-products/products/organic-lychee-blue-tea?_pos=1&_sid=8b3727bdb&_ss=r
Organic Peach Blue Tea: Peaches are among the greatest and most popular fruits in the world for flavouring tea. They are juicy, fuzzy, and tasty. It is the ultimate peach experience in blue tea. When combined with a mellow blue tea and a flavor of peach, the result is a distinct flavor profile that is sweet, floral, light, and creamy all at the same time.
Buy now: https://esahtea.in/collections/newest-products/products/organic-peach-blue-tea?_pos=1&_sid=b1ccc0fd7&_ss=r
ABOUT US
Our tea is the perfect harmony of aesthetics, flavour, complexity and health. Our mission is to give you the best tea experience as a result of the respect we have for the art and craft of tea making and its culture. We care about our environment and believe in sustainable, ethical extraction and production. Our initiative to switch to plastic-free tea bags is a result of adopting sustainability as an ethic.
To know more: https://esahtea.in/