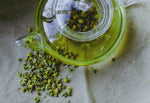 Chamomile tea is the healer in the universe of teas. It reeks of medicinal properties and is popular for the same. The discovery and use of chamomile initially are found to be in Rome and Egypt, almost centuries ago. It was prescribed for treating many diseases and allergies during ancient ages. The rise of chamomile tea during recent times has contributed to its increase in consumption and has made us more aware of its properties. If you are new to the Chamomile Bandwagon or if you are considering the idea of drinking chamomile tea, here are the many reasons why you are going in the right direction.
WHAT IS CHAMOMILE?
Popularly known for its healing properties and use in traditional medicine, chamomile is a daisy-like plant from the family of Asteraceae. Chamomile flowers are said to consist of beneficial components like apigenin, bisabolol and chamazulene. The two most popular types of chamomile are derived from Matricaria recutita and Anthemis nobilis also the former known as German chamomile and the latter known as Roman Chamomile. It is a popular ingredient in almost all aspects of life from essential oils to cosmetics and mostly used in the form of tea. 
Drinking chamomile tea has a profound impact on our health and keeps many diseases at bay.
BENEFITS OF CHAMOMILE TEA
INDUCES SLEEP AND RELIEVES ANXIETY
Chamomile tea has soothing properties and helps with reducing stress which makes it a perfect drink before bed. With the absence of caffeine, the tea helps with inducing sleep by relaxing the nervous system while helping in releasing serotonin and providing relief for stress. 
TREATS COLD
Chamomile tea is a super tea when it comes to treating cold. It helps with relieving nasal congestion, reducing throat inflammation and relieves headache. A hot cup of chamomile tea can be your saviour during the flu season.
PROTECTS YOUR GUT
Chamomile tea can benefit your gut health enormously. The medicinal properties of chamomile will reduce inflammation of the digestive tract, control nausea, eases stomach pain and helps with haemorrhoids while easing gastrointestinal pain. 
EASES MENSTRUAL PAIN
The soothing properties of chamomile tea help in relieving menstrual pain and reduces anxiety during periods. The antispasmodic properties of chamomile can help with relaxing the uterine muscles while reducing the production of prostaglandins that induce pain. 
SAVES YOUR SKIN
Drinking chamomile tea can also be a jackpot for your skin. It helps with antiageing, reducing acne and improves your face glow. The antioxidants in chamomile tea help in regeneration of cells and the antiseptic properties of chamomile help in reducing acne scars and blemishes while improving the overall glow and even tone of the face. 
BOOSTS IMMUNITY 
Chamomile tea has antibacterial properties that work its magic on our immunity system. Chamomile tea can boost your immunity and helps in protecting the urinary system while keeping the bacterial infections at bay. 
Including chamomile tea in your daily routine can have a profound impact on your health. The medicinal and healing properties of chamomile can elevate your health to its optimum capacity while keeping you calm. With the fast-paced city life taking over our schedules, drinking one cup of chamomile tea every day will make you realise that taking time for yourself and your health is what matters the most. 
 Ésah Tea's Chamomile Organic Green Tea is a delicious mix of two super-teas in one package with the properties of both chamomile and green tea. It is the perfect choice to treat your health and yourself. Click Here to Shop Now