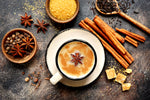 Chai is an emotion for millions around the world. It is also one among the easiest beverages to make at home. The ever growing popularity began decades ago and is still a popular beverage among tea drinkers. Here is everything we know about chai and the never ending love for it.
Chai simply means ''Tea'' in Hindi and is derived from the chinese word ''Cha''. It was born in the land of diversity, India and in result is also a very diverse drink made with aromatic spices. A dark brown, full bodied tea with a dash of milk and spices, chai is the perfect drink on a rainy day. It is a warm hug in a small cup. 
It is believed to have been discovered 5000 years ago as a medicinal drink in India. The ayurvedic properties of the spices is said to have many health benefits that added to the popularity of the beverage in the early years of India. During the colonial rule of India, masala chai became a popular street drink consumed during the evening tea break with snacks of various kinds like samosa and pakoras. Since then, Indians have been the largest producers of chai and also have been the largest consumers of the drink.
WHAT GOES IN A CHAI?
Tea - The most popular tea leaves for chai is Assam Tea which is a full bodied, black tea filled with natural flavours. The tea is the base of the chai and is a vital part of the beverage.
Milk - Chai is incomplete without milk. It binds with the tea and lifts the whole flavour. Milk also brings out the brown colour of chai while elevating the taste. Cow's milk is the best choice for chai and has been the most popular.
Spices- The spice mix is a game changer in your tea. It gives a strong piquancy to the tea while soothing the heart. Finding the right spices can change your tea-game. The most popular spices in chai have been ginger(adrak), cardamom (elaichi), cloves and star anise. 
Sweetener -  A little hint of sweetness balances the tea. Sugar is the preferred sweetener for chai. It balances the spice and elevates the fine flavour of the chai.
BENEFITS OF CHAI
Consumption of chai has a vast array of benefits to your health. The various spices in chai have a set of their own benefits and have said to help in many ways. Drinking tea filled with spices helps in maintaining a good digestive system, a healthy gut and improves holistic well being. 
Ginger- Ginger in tea helps with killing germs in the digestive tract along with helping in treating nausea. 
Cardamom - Known for its antibacterial properties, cardamom helps in lowering the blood pressure along with reducing inflammation. 
Cloves - Cloves are said to have antioxidant properties and help in controlling blood sugar levels. It also improves oral hygiene and keeps the gums healthy.
Star Anise - Star Anise improves digestion, helps in controlling bloating and helps in relieving constipation. 
TYPES OF CHAI 
INDIAN MASALA CHAI

- The Indian Masala chai is a staple beverage of India. Made with Crush Tear Curl (CTC) Tea , ginger, cardamom, cinnamon and milk, the Indian Masala chai is a simple and authentic tea that can warm your soul on the most dull days.
Popularly consumed during winters and seasons of monsoon, Indian Masala Chai is a crowd pleaser in India.  
 How to make Indian Masala Chai - In a saucepan, add 2 spoons CTC tea powder, half a cup of water, half a cup milk, 2-3 slices of ginger, 3 pods of cardamom, cinnamon and let it boil. Let the tea steep for a few minutes. Later strain the tea in a cup and add sugar to your taste. It is as simple as it sounds and as heavenly as is it said to be. 
BOMBAY CUTTING CHAI

-  Bombay cutting chai is  the heart and soul of the bustling streets of Bombay. Cutting chai is a strong and flavourful explosion of tea with ginger and cardamom with a light aroma.  A small cup of Bombay Cutting chai is truly the essence of Bombay. 
How to make Bombay Cutting Chai - Add two spoons of CTC tea powder and throw in 2-3 slices of ginger and a quarter spoon of crushed cardamom in one cup of water. Bring it to a boil and let it steep for five minutes. Strain the tea and milk and sugar suitable to your taste and enjoy. Bombay Cutting Chai is life in a cup. 
PUNJABI MASALA CHAI

- A staple beverage in the Dhabas of Punjab, this chai is strong, spicy and fragrant. Known as "Cha''in Punjabi, the Punjabi Masala Chai is a popular drink and a perfect compliment to roadtrips to Punjab. 
How to make Punajbi Masala chai- Add one cup of water, half a stick of cinnamon,2-3 pods of crushed cardamom, 3 whole cloves and let it boil in a saucepan. Add loose tea powder to the boiled water and let it boil again. Add milk and sugar to the tea and strain the drink. Punjabi Masala Chai is a true reflection of the Punjabi spirit. 
KOLKATA STREET CHAI

- Chai in the "City of Joy" is as joyful as it sounds. Served in clay cups, Kolkata street chai is simple, flavourful and sustainable. The streets of Kolkata are memorable in their own ways but what makes it worth it, is the tea. 
How to make Kolkata street Chai- In a saucepan, add a cup of water and add a spoon of freshly grated ginger. Bring the water to a boil and let it simmer for a couple of minutes. Add the black tea and let it simmer. Now add milk,some cardamom and sugar and let it boil. Let the tea steep for 6-7 minutes and strain the tea and enjoy! The thick, bubbly tea will be your go to tea choice! 
KESAR CHAI

- Strong flavoured and beautifully coloured, Kesar chai is a simple yet sophisticated addition to your evening snack time. It is aromatic, strong and leaves you with a feeling of warmth. 
How to make Kesar Chai - In a saucepan, add one cup of water, a few strands of kesar and cardamom. Let it simmer and add black tea. Boil it down and later add milk and sugar and stir well. Let it simmer for a couple of minutes and strain the tea. Kesar chai tastes best with biscuits! 
ADRAK CHAI

- Adrak chai is the most popular go-to comfort beverage in the tea world. Adrak is the hindi word for ginger and adrak chai simply translates to Ginger tea. It is simple, easy to make and bursts with flavour. Adrak chai is the best start to your day and helps to awaken your soul. There is truly nothing that can go wrong with Adrak Chai. 
How to make Adrak Chai - Add one cup of water, 2 spoons of black tea, 3-4 slices of crushed ginger and let it boil. Now add milk and let it simmer for a minute. Let the tea steep for 2 minutes and strain it. Add sugar to taste and Adrak Chai is ready to be devoured. 
Ésah Tea is your perfect start to dive into a whole new world of chai. Our Organic Assam Kadak Chai is straight from the gardens of Assam and will transport you to the fields of Assam. It is the perfect foundation for chai and will enhance your chai experience.
In order to have a complete, strong masala chai experience, Ésah's Organic Masala Chai is your one stop for the perfect masala chai with the perfect blend of spices. Our Organic Rose Masala Chai is a modern take on a traditional method by infusing mellow essence off rose petals that will soothe your soul.