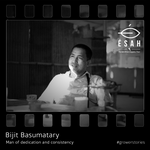 Across the serene hills of North-East India, in the state of Assam, lies the scenic Chakrasila Wildlife Sanctuary. Nurtured by the Chakrasila mountain range, this destination stands as an attractive natural jewel, but there is an additional element that adds to the pomp and glory of this place. This element made the name Chakrasila known in faraway lands.
The Chakrasila tea garden , a breathtaking stretch of green,  lapped in the shade of the great Chakrasila hills, not only adds to the beauty of the location but also stands as a promising Organic tea supplier in the tea capital of India (Assam).
Surprisingly before 1997, the tea garden was nothing but an abandoned piece of plain land immersed in a blanket of thick shrubs. This small segment talks about the inspiring journey of Tea Grower Mr. Bijit Basumatary (owner of Chakrasila Tea Garden), and how he transformed a small piece of land into a beautiful tea garden.
In 1997, Mr. Bijit Basumatary completed his graduation, and like all new graduates, he too faced the challenging question of "What to do next?". After a long time of mulling and brainstorming, he along with 12 others, decided to venture into the area of tea production. They transformed the abandoned land into a well-planned space, laced with scenic brilliance. From that point onwards, there was no looking back. What started with a capital of thirty-six thousand rupees under one Acre land turned into one of the quality tea gardens in the region. In a span of 23 years, Mr. Basumatry faced a lot of challenges, but his sheer dedication towards the art of tea production kept him going. During the early stages, Mr. Basumatary had to face an array of challenges that made gaining profits seem like an uphill task, but his adaptable thinking came to the rescue. With the growing demand for organic tea plantations across the globe, Mr. Basumatary spent hours studying the techniques of preparing organic tea and dedicated an extra amount of time to train the workers for organic production. This proved to be a crucial step towards success, and from 2010, the Chakrasila tea estate stepped into the wide network of organic tea production. What Mr. Basumatry particularly liked about Organic tea production was the fact that it prohibits the use of pesticides, keeping the process entirely natural. This on a bigger picture works as a massive boon for the environment and the consumer.
As a successful organic tea grower, he stands well versed in the amount of skill and precision required to deliver quality tea and strives to deliver nothing but the best to his consumers. After 23 years of rigorous hard work and consistency, Mr. Basumatry aims at further expanding the Chakrasila Tea garden to not only increase the yield but also to increase the quality.
As a visionary, he wants the youth of Assam to carry this age-old legacy of tea production in Assam forward.
This was the story of Mr. Bijit Basumatry, an epitome of hard work and dedication and a Proud Assam tea grower. Fresh Tea leaves brewed straight from his garden are available in Ésah Tea catalogue under the name of
Chakrasila Organic Classic Black tea
. Give it a try, there won't be any regrets.